THE FAMILY LOVE BAND
(San Jose, CA)
Family Love was formed by Lê Trí in 1968 and consisted of the singers and musicians of two famous groups at the time: The Flowers and The Rabbits. The two main singers were Christiane Lê and Tami Lê, with Lê Trí on keyboard, Minh Hải on guitar, Tường Nga on bass, and Tường Vân on drums. Like many other groups at the time, Family Love performed at the American military bases, and various night clubs in Saigon. Lê Toàn joined the group in 1972, and they settled at Melody Club near Tân-Sơn-Nhứt airport for awhile, then started to appear at the "Hippy-A-Gogo" shows in Saigon on the weekends. In a short time, Family Love captured thousands of young fans, and was invited to perform at the famous Mini Club, on the 10th floor of Catinat hotel. Family Love became the most famous band for the young Vietnamese at the time, and Mini Club was the only place where you would see long lines waiting outside to get in.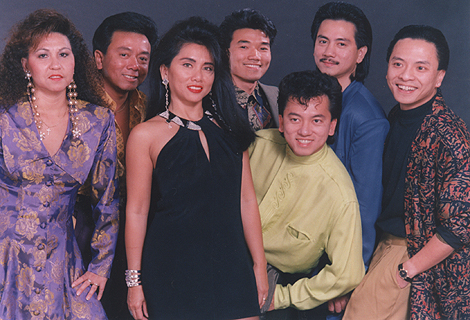 Christiane Lê, Lê Trí, Tami Lê, Andy Trâm, Lê Thanh, Lê Toàn, Lê Phúc

Arriving in America in 1975, Family Love reformed and was invited to perform in the military bases and many night clubs in Honolulu, and quickly gained a lot of non-Vietnamese fans. In 1977, they signed a one year contract to tour around the mid-west, and was the only Vietnamese band doing Floor Shows and comedy for the American audience. Back to Hawaii in 1978, they appeared nightly at Club J in Pearl City, and Sir John in Waikiki. Their success have gained respects from the local groups. In 1981, the family relocated in San Jose, California, and again, appeared at a number of Vietnamese night clubs in the bay area, and went on tour across the US. In 1985, Family Love opened Lido night club and have re-launched the music mania in the young Vietnamese fans in California, where they became once again the hottest band in the community.
Family Love has always been first in performing the latest, trendiest style of music, and was known for their lively performance on stage. Family Love has been busy with music, CD, and video productions at their studio labeled OrioSound Productions. Some of their products during the 90's were the laserdiscs "Sing-Along-with-Family-Love" Vol.1 & 2. The script writing, directing, music arrangement and sound engineering was all done by Lê Trí and Lê Toàn, and the quality of these laserdiscs are considered superb. The Family Love band currently resides in San Jose, California, and appears on special occasions.
** Any Vietnamese wedding band claiming to be the "FAMILY LOVE BAND" is nothing but an imposter committing fraud. Music is an art and artists build their unique name and audience with special talents. It's so sad that some people do not have enough pride and talent that they have to ruin someone else's reputation to gain cheap businesses.